Life Fitness Discover SE, SI Console Software Update
Download the Discover Tablet Console software zip file from Halo Fitness Cloud and Unzip the contents to the USB stick's top level directory on any Windows formatted FAT32 USB stick (16GB minimum).
1. Power up the unit
2. From the Attract screen (Skier, Runner, Surfer or Custom) press the "Workouts" button.
3. The Workout selection screen will appear.
4. Insert the USB drive into the front accessory panel USB connector and WAIT. The console auto-detects the software package and proceed with the installation. Note: This may take up to 15-20 minutes, do not remove the USB Stick.
5. All files will be uploaded to the console. Remove the USB drive when prompted:
6. If prompted, select the Update Setup Utility" button as shown below.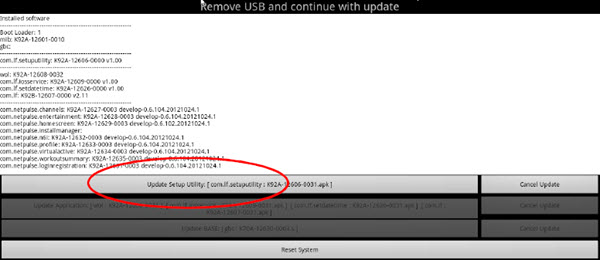 7. Setup Utility will get installed.
8. All other components will be installed automatically.

9. An IOSService application completes installation.
10. When one update is finished, another one will start until all components are installed.

11. Operating System update (if needed) will be done automatically and might take up to 8 minutes.
12. When all applications are installed, the console will restart automatically.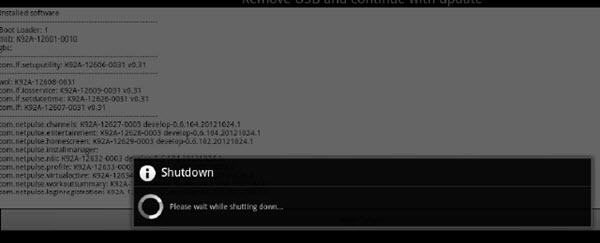 13. The software update process is now completed where the system will return to the Attract Screen after: